BEYONCE'S AID TO NIGERIANS INFURIATES SOME ON TWITTER
NIGERIA
Many online users are angered by a tweet posted by American singer Beyonce's charity in solidarity with anti-police protestors in Nigeria. In the tweet she stated she was working with organizations to support those protesting. She said they were aiming to "provide emergency healthcare, food and shelter." Some Nigerians said they weren't hungry and instead desire and are demanding change.
"We starved of justice, human rights and other social amenities not food!" Chimmy tweeted.
"Keep your help and aid to yourself, I don't need it and the dead definitely don't. All we needed was your platform to create awareness for the whole issue but you prefer to send us aid like the "poor" set of people we are. Never again. Keep your aid to yourself. We'll remember," Tomiwa tweeted.
"Who told Beyonce that we are hungry? Sis just lend your voice like Riri and co.," Papi Jay tweeted.
Yet others defended Beyonce saying she was offering support.
"That's stupid, and after what? She gon talk without doing anything? She's offering her money and health support and you ask for a voice?? I don't understand people!" Queen Domi tweeted.
Here is Beyonce's statement posted on her BeyGood platform: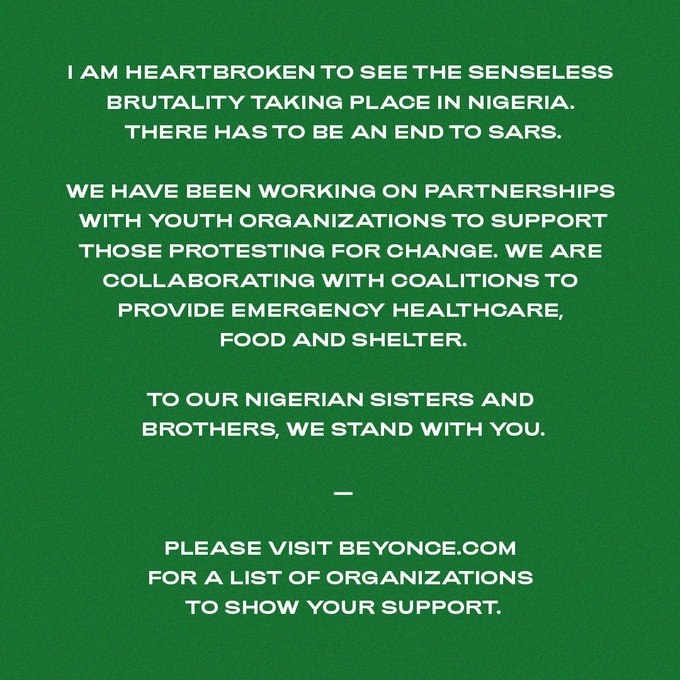 Spiritual Analysis:
Shalom everyone. God bless you all and I trust that all is well with you. I believe that a lot of you are becoming more and more aware of the major civil unrests that are happening all around the world, yet for this week we are honing in on what is happening in Nigeria. I'm sure you have seen the famous #endsars hashtag that is dominating social media as of now, and this hashtag relates to very serious police brutality cases that are happening throughout the nation.
Let me make myself clear on this one fact, child of God. It does not matter who you are, or where you live in this world. God has called you to be a trail-blazer for implementing his kingdom reign on earth, and no matter what, we stand for what is right. You do not have to be a politician or a celebrity to spark change for something seriously wrong that you see happening within or outside your country. The Bible reads that "ye are the light of the world. A city that is set on a hill that cannot be hid…. [so] let your light so shine before men, that they may see your good works, and glorify your Father which is in heaven" (Matt 5: 14,16 KJV).
Many people also think that if something is not happening to them, then it's not their problem. However, this mentality is completely incorrect and couldn't be further from the truth. As Christians, we are to use whatever God has given us to ultimately carry forth the Great Commission and preach the gospel. This could look like anything from representing Christ in your international school clubs to speaking out the truth on platforms such as Instagram and Facebook live. Indeed, we are living in the end-times… the "eschatos" as the New Testament describes… meaning the end of the end. Jesus Christ could come anytime now and the rapture can happen at any moment, and until then, we must faithfully and zealously carry forth all that he has commissioned us to do.
So, my brother, my sister, my question for you is this: Are you going to keep waiting for the "people at the top" to implement the change that you want to see in this world, or are you going to "rise up, pick up your mat and walk" (John 5:8) and begin yourself? There are innumerable and countless things that you can do for the great cause of Jesus Christ, and it's time to get moving, starting now! No matter what, Covid or no Covid, the Kingdom of God will continue to advance! Remember that our weapons are not carnal, but mighty through God to the pulling down of strongholds" (2 Cor 10:4 KJV), "and from the days of John the Baptist until now, the kingdom of heaven suffereth violence, and the violent take it by force!" (Matt 11:12 KJV). As Children of God, we do not mourn and crumble in weakness and oppression. We know what we want, and through the power of Jesus Christ who lives on the inside of us, we make it happen!
Song of the Week:https://www.youtube.com/embed/HPqDaKajSnQ?version=3&rel=1&fs=1&autohide=2&showsearch=0&showinfo=1&iv_load_policy=1&wmode=transparent
SHARE THIS: